Introducing LoadUI NG
As part of our commitment to bringing you the best in API Readiness tools, we're happy to announce the availability of LoadUI NG, the next generation of API load testing tools from SmartBear. With this new product, we've updated the user interface to be far more intuitive and easy to use. If you are familiar with the previous versions of LoadUI and LoadUI Pro, you will want to test drive our newest version - it's a big departure from those tools.
As with all Ready! API tools, there is a free tier of base functionality that comes with the purchase of any other Ready! API tool, as well as a powerful professional version that delivers even more functionality.
LoadUI NG (base)
Compared to the previous versions of LoadUI that were available with Ready! API, we've made these improvements:
While the process of creating a load test is the same, we have a much more intuitive interface
You can create your load test then apply it to different test cases without ever leaving your load test
Our measurements are no longer just thread-based; you can create complex or simple scenarios that mimic real world behavior by using virtual users, transaction rate, or threads.
Ability to set wait time for all of your load strategies
Metrics and statistics available immediately on your dashboard for real-time reporting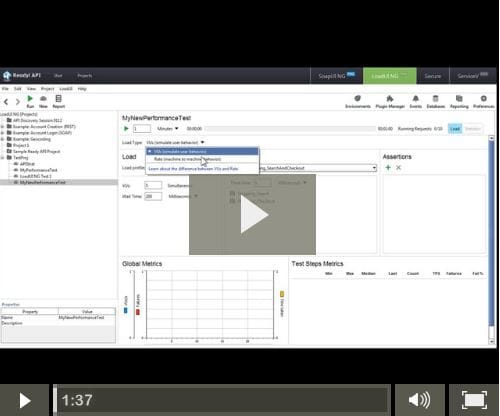 LoadUI NG Pro
With the commercial version of LoadUI NG, you get all the same great features and ease of use, but you also get additional power:
Tiered levels that allow you to choose the package that is right for you
Complete support for SOAP and REST
Tight integration with SoapUI NG so you can use your API functional tests as a starting point
The ability to define think time within your tests so you can better simulate real user behavior with your API
Detailed reporting
Performance assertions to easily define SLAs or Quality of Service levels
Test run comparisons so you can review performance trends over time
History
In today's software industry, APIs are the glue that holds everything together. If developers are going to build great applications, they need to work with great APIs. SmartBear Software is on a mission to make sure that every API is a great API - so that every application can be a great application. But we know you need the right tools to make that happen. We are happy to introduce Ready! API, our next-gen API platform based on our award-winning SoapUI tool and designed to give you all the tools you need, and only the tools you need, when building and testing APIs.

Ready! API will help you:
Validate your model by creating mock services from service descriptions
Test your API with functional, load and security tests
Integrate with confidence by creating virts for other teams to work with
This release includes:
Everything you need for API functional testing: SoapUI NG. Available both in Pro and Base Versions.
Easy-to-use tool for API load testing: LoadUI. Available in Base Version only.
Comprehensive API security testing: Secure. Available in Base Version only.
Efficient and easy service virtualization: ServiceV. Available both in Pro and Base Versions.
Our solution for deploying and sharing virtual services: VirtServer
Centralized API Projects and Workspace management.
API discovery capabilities for testing and virtualizing APIs.